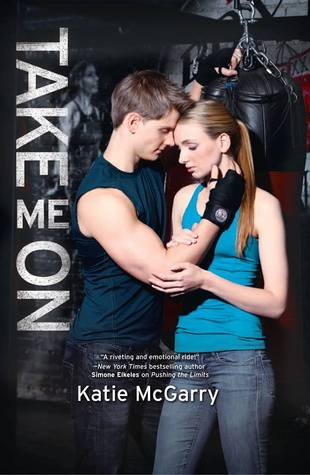 Take Me On
by Katie McGarry
Series:
Pushing the Limits, #4
Source:
Bought
Publisher:
Harlequin Teen
Publication Date:
May 27, 2014
Acclaimed author Katie McGarry returns with the knockout new story of two high school seniors who are about to learn what winning really means.

Champion kickboxer Haley swore she'd never set foot in the ring again after one tragic night. But then the guy she can't stop thinking about accepts a mixed martial arts fight in her honor. Suddenly, Haley has to train West Young. All attitude, West is everything Haley promised herself she'd stay away from. Yet he won't last five seconds in the ring without her help.

West is keeping a big secret from Haley. About who he really is. But helping her-fighting for her-is a shot at redemption. Especially since it's his fault his family is falling apart. He can't change the past, but maybe he can change Haley's future.

Hayley and West have agreed to keep their relationship strictly in the ring. But as an unexpected bond forms between them and attraction mocks their best intentions, they'll face their darkest fears and discover love is worth fighting for.
Take Me On
starts out with a bang - the first meeting of West and Haley was pretty good, and I loved how we were thrown straight into the story, but I feel like this is weakest book from Katie McGarry so far. I can tell you right now that I didn't really ship Haley and West. They were okay together, but I didn't feel like their relationship was going to last through all of the tests and the struggles. I definitely didn't love this one as much as I loved it's predecessor,
Crash Into You.
Not only did I think that the love story between Haley and West was weak, but I also thought that it was a bit cliched. Jaded girl falls for the boy who has everything - except a family that loves him. This was made better by the fact that for part of their relationship he was living in his car, but I really thought that Haley would run for the hills when she found out that he was a Young. So bonus points for her staying, even if I didn't really ship it.
I liked the continuation of Rachel's family story, with the dealings from her crooked dad and her 'perfect' mother, as well as the fact that no one really tried to pretend that they were okay. They all know that they're screwed up, and they just own up to it, which was interesting to see.
I also liked the fact that both Haley and West had
a bunch
of problems. Like, a bunch. But they never really tried to work out their own problems before trying to fix the others', which is why I felt like they wouldn't work together. I think that they should fix their personal problems and family problems
before
trying to work on each others'.
Haley's family was just crazy. I liked the fact that her brother and her cousin were always willing to fight for her, even if they weren't willing to stand up for her with their words. All in all,
Take Me On
was pretty good, but it's not as good as some of Katie's other work.