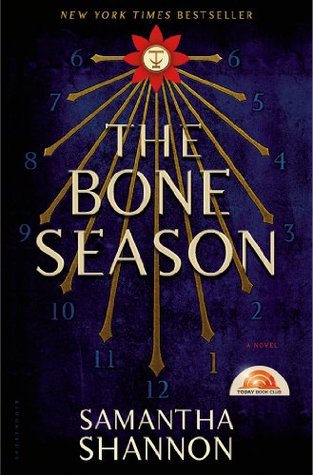 The Bone Season
by Samantha Shannon
Series:
The Bone Season, #1
Source:
Provided by the publisher for review
Publisher:
Bloomsbury
Publication Date:
August 20, 2013
It is the year 2059. Several major world cities are under the control of a security force called Scion. Paige Mahoney works in the criminal underworld of Scion London, part of a secret cell known as the Seven Seals. The work she does is unusual: scouting for information by breaking into others' minds. Paige is a dreamwalker, a rare kind of clairvoyant, and in this world, the voyants commit treason simply by breathing.

But when Paige is captured and arrested, she encounters a power more sinister even than Scion. The voyant prison is a separate city—Oxford, erased from the map two centuries ago and now controlled by a powerful, otherworldly race. These creatures, the Rephaim, value the voyants highly—as soldiers in their army.

Paige is assigned to a Rephaite keeper, Warden, who will be in charge of her care and training. He is her master. Her natural enemy. But if she wants to regain her freedom, Paige will have to learn something of his mind and his own mysterious motives.

The Bone Season introduces a compelling heroine—a young woman learning to harness her powers in a world where everything has been taken from her. It also introduces an extraordinary young writer, with huge ambition and a teeming imagination. Samantha Shannon has created a bold new reality in this riveting debut.
I had this really great intro planned, but unfortunately, I didn't write down when I thought of it; so it's just completely buried in the crevices of my mind - a truly scary thought. So that's been lost. But I have a new one... kind of.
I guess I'll start out by saying that I did enjoy
The Bone Season
- and the reason the rating is only because of how slow the reading went. Otherwise, it would have been a solid four stars. But as is, it's only 3.5. I guess it was just a little hard for me to process everything as I was reading it - I had to keep taking breaks. But other than that, I really didn't have any problems with it.
I liked the futuristic world building, which was rich and interesting. It's always a good thing when the author makes such an effort to make the world something special. The descriptions and experiences were weird and lucid and beautiful.
Also, the dystopian society was very interesting. I'd have never thought of such a complex world of seers and Rephaim; not to mention the tinfoil hat-ness that made my inner conspiracy theorist so happy!
On another note, the relationship between Paige and Warden really confused me. For most of the book, it felt like Paige really hated Warden, but it also felt like she just had to help him, no matter how much she despised him. Which was kind of amazing. We rarely see badass female characters that have a sense of compassion, and I loved that Samantha Shannon gave us that. She was softhearted, but she tried to hide it behind a tough exterior.
Warden, on the other hand, was much harder to get a read on. He was compassionate as well, but he just wasn't around near as much as Paige, so I didn't really form a big attachment to him. He was okay, but not that fabulous. I liked them together, and that kiss was
fantabulous,
but I'll have to read more about him before I truly make a decision on his character.
All in all,
The Bone Season
was an interesting read. I liked it, even if it was a little slow. And I really liked the fact that the ending was a huge surprise. I wasn't disappointed about it at all, but it was definitely a shock.