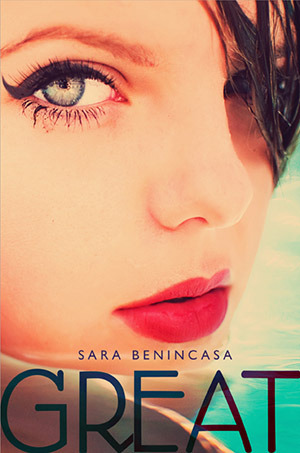 Great
by Sara Benincasa
Series:
N/A
Source:
Bought
Publisher:
Harper Teen
Publication Date:
April 8, 2014
In Sara Benincasa's contemporary retelling of The Great Gatsby, a teenage girl becomes entangled in the drama of a Hamptons social circle, only to be implicated in a tragedy that shakes the summer community.

Everyone loves a good scandal.

Naomi Rye usually dreads spending the summer with her socialite mother in East Hampton. This year is no different. She sticks out like a sore thumb among the teenagers who have been summering (a verb only the very rich use) together for years. But Naomi finds herself captivated by her mysterious next-door neighbor, Jacinta. Jacinta has her own reason for drawing close to Naomi-to meet the beautiful and untouchable Delilah Fairweather. But Jacinta's carefully constructed world is hiding something huge, a secret that could undo everything. And Naomi must decide how far she is willing to be pulled into this web of lies and deception before she is unable to escape.

Based on a beloved classic and steeped in Sara Benincasa's darkly comic voice, Great has all the drama, glitz, and romance with a terrific modern (and scandalous) twist to enthrall readers.
The reason that I rated Sara Benincasa's
Great
three stars isn't because I didn't like it - in fact, it's just the opposite. But I ran into the same problems in this one that I did in the original one. Sometimes, the drama of this one (and the original) was just too hard to keep up with. It's not that they're bad reads, not at all... but sometimes they're just a bit too complicated for my taste.
I really loved the writing style of
Great.
It has the same elegant, descriptive narrative of the first one, but it was much easier to understand this time around. It was interesting to see the parallels of the story, but it was also interesting to see the differences. For instance, Nick was genderbent into Naomi, which honestly makes more sense. And then we have Jacinta, the female counterpart of Jay, who was just as over the top and weird as the original. And then, of course, we have Delilah... and I'm sure you can all guess exactly where that goes. It was really an interesting update, to say the least.
Naomi did a good Nick, and I feel like we got to know her better than we got to know Nick in the original. Her voice was a lot less disconnected. She was very even keel, and she wasn't annoying or anything - which Jacinta could be. It was nice that she balanced out.
As for Jacinta, I really don't know exactly what to say about her character. It was obvious that she was Jay, but her personality was a bit different, and truly a lot more twisty. Not to mention the fact that she's obviously a girl, but... her and Delilah end up being in a relationship, and it was a bit confusing.
Great
mostly follows the original plotline of
The Great Gatsby,
but there are a few new twists here and there. All in all, I'd say that it was an interesting enough read; and I'd definitely recommend it if you enjoy the original story.