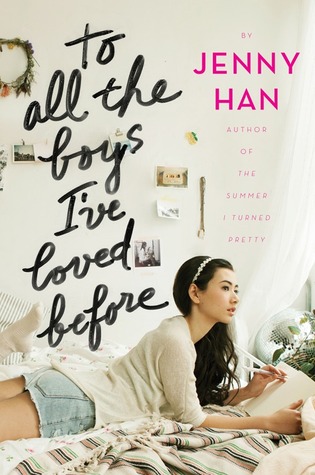 To All the Boys I've Loved Before
by Jenny Han
Series:
N/A
Source:
Bought
Publisher:
Simon & Schuster
Publication Date:
April 15, 2014
To All the Boys I've Loved Before is the story of Lara Jean, who has never openly admitted her crushes, but instead wrote each boy a letter about how she felt, sealed it, and hid it in a box under her bed. But one day Lara Jean discovers that somehow her secret box of letters has been mailed, causing all her crushes from her past to confront her about the letters: her first kiss, the boy from summer camp, even her sister's ex-boyfriend, Josh. As she learns to deal with her past loves face to face, Lara Jean discovers that something good may come out of these letters after all.
If love is like a possession, maybe my letters are like my exorcisms. My letters set me free. Or at least they're supposed to.
I just have a little remark to say about the cover, before I get started with the review - I love it. I like the way the title appears to be written in Sharpie, and how the girl is writing in her diary, and the simple layout and everything. To me, this is just the perfect cover style. It's just too pretty.
Now let's get down to business - I actually really liked this one, a bit more than I thought I would... but also a bit less on some points. I enjoyed the actual letters a lot, and the bit of a side romance, but I'm not so sure about some of the side characters, such as Margot. She was such a jerk! I couldn't stand her, not even a little bit. But I liked Lara Jean herself. She was really quirky, and it was pretty cute. I also liked the fact that most of the time she was pretty even keeled. Which is always nice, in a more dramatic storyline such as this.
And I really, really, really liked the fact that I got to read the letters that Lara Jean wrote - those were such fun!
Throughout
To All the Boys I've Loved Before,
I will admit to having one question that plagued me - and was never answered. How did the letters even get sent out? I don't understand, and while there were several moments where I felt like the book was pointing towards one certain person, it was never truly resolved, and I'd be lying if I said that didn't bother me.
But in the end, I really did end up enjoying this one - it was a fun read, and as you all know - I really love Jenny Han, so it was great to read another book by her. I'd definitely recommend this one for your next contemporary read. :)