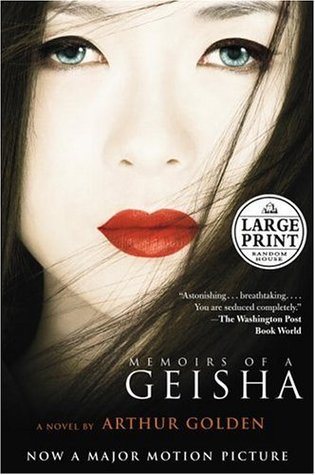 Memoirs of a Geisha
by Arthur Golden
Series:
N/A
Source:
Bought
Publisher:
Random House
Publication Date:
November 15, 2005
In this literary tour de force, novelist Arthur Golden enters a remote and shimmeringly exotic world. For the protagonist of this peerlessly observant first novel is Sayuri, one of Japan's most celebrated geisha, a woman who is both performer and courtesan, slave and goddess.

We follow Sayuri from her childhood in an impoverished fishing village, where in 1929, she is sold to a representative of a geisha house, who is drawn by the child's unusual blue-grey eyes. From there she is taken to Gion, the pleasure district of Kyoto. She is nine years old. In the years that follow, as she works to pay back the price of her purchase, Sayuri will be schooled in music and dance, learn to apply the geisha's elaborate makeup, wear elaborate kimono, and care for a coiffure so fragile that it requires a special pillow. She will also acquire a magnanimous tutor and a venomous rival. Surviving the intrigues of her trade and the upheavals of war, the resourceful Sayuri is a romantic heroine on the order of Jane Eyre and Scarlett O'Hara. And Memoirs of a Geisha is a triumphant work - suspenseful, and utterly persuasive.
It took me a
really
long time to read this one. Around three weeks, actually. And if you know me well, that's bad. That rarely ever happens to me - and never without good reason. And I hate to say it, but if ever there was a good reason, this book was it. I feel like
Memoirs of a Geisha
was just... boring.
Yep, I said it. Boring. That's the best way to describe it. Don't get me wrong, the storytelling itself was pretty - but it just dragged and dragged until I could barely take it anymore; and then it continued. It was a sad story, but I think the saddest part was the way that it seemed to go nowhere.
I liked the descriptions of the Geisha world - it was obviously a cruel and harsh place, and I'm glad that the author went out of his way to make it seem real. But this book just wasn't for me, unfortunately. I'm sorry for the really short review, you guys!